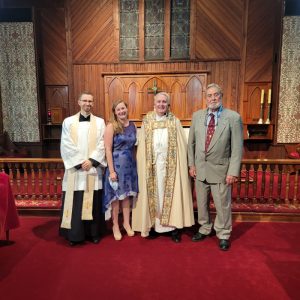 Date: September 14, 2022
Time: 5:30-7:30pm
On the Feast of the Exaltation of the Holy Cross there will be a Solemn Evensong in the Church followed by a formal sit-down super in the Parish Hall to commemorate and celebrate Fr. Matthew's installation as our 13th rector last Feast of St. Michael and All Angels. Tickets are $20 and cover the cost of the meal. Evensong will begin at 5:30 PM and supper will be served immediately after around 6:00 PM.
All are welcome to attend the Evensong for free, and the service will also be livestreamed for those who are unable to attend in person.