'In all this I have given you an example that by such work we must support the weak, remembering the words of the Lord Jesus, for he himself said, "It is more blessed to give than to receive."'
- Acts 20:35
---
Located at 211 S. Mary St., the St. Thomas Thrift Store is a great place to shop around for all sorts of items ranging from kitchenware to clothing. The Thrift Shop and Boutique is run by a group of caring volunteers committed to providing a wide variety of clean and reasonably priced items.
---
Donate
If you would like to donate gently used clothing or household goods to the thrift shop, they may be dropped off on the donations porch located on the south side of the Church office, which is located at 317 S. Mary Street.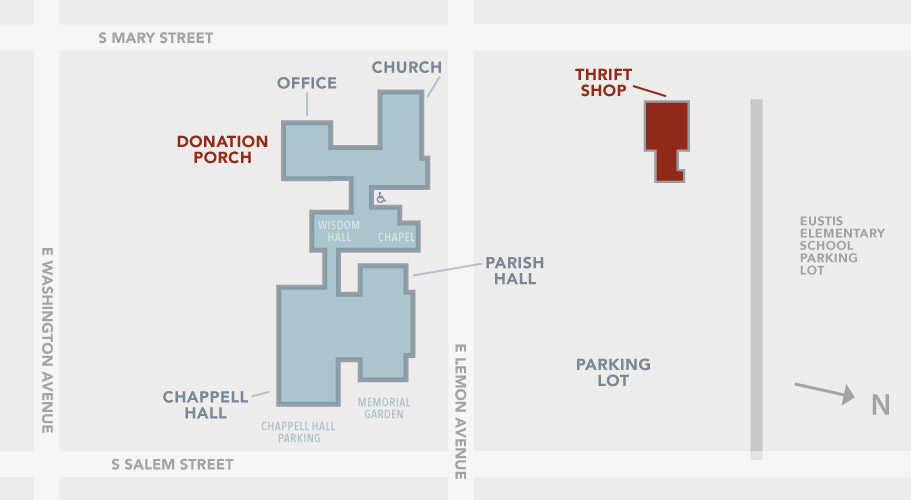 ---
Financial Outreach
Beyond being a treasure house of goods with friendly workers and relaxed shopping environment, the St. Thomas Thrift Shop is also a ministry of the Church, and one of its principal sources of financial outreach to the community. For well over fifty years, the St. Thomas Thrift Shop & Boutique has provided funding for local charitable organizations. In recent years, disbursements have averaged $15,000 - $20,000 annually.
Application for Thrift Shop Funding

Each year, local organizations are invited to submit application to receive grants from the Thrift Shop, and funds are disbursed two times throughout the year, once in the spring and once in the fall.
Application periods are March 1 to 31st and September 1 to 30th.
Application forms to be mailed in may be obtained here.
May 2022 Thrift Shop Disbursements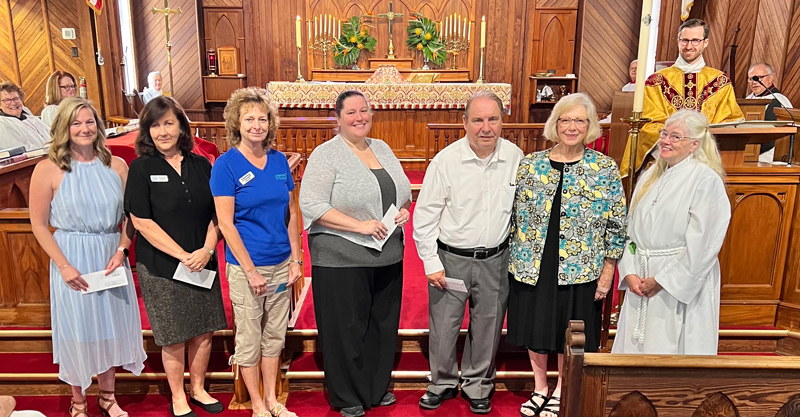 On May 15th, 2022 the Thrift Shop's volunteer of the year, Carol Ann Luche, was invited to distribute checks to the following organizations:
Founded in 1996, Camp Boggy Creek enables camp experiences for children with medical conditions or disabilities which would prevent them from being able to attend a traditional children's camp. The camp operates year round and beyond the joys of the camp experience—horseback riding, fishing, and so many more activities—provides children with severe illness fellowship with other children who can share their similar life experiences, and remind them that none of them is alone.
Founded in 1977, The Haven provides emergency support to victims of sexual assault and domestic violence. They maintain a 24 hour hotline for crisis intervention, emergency shelter, food, and clothing for those fleeing violent households, counseling, advocacy, and also training for law enforcement officers.
After two years of not having a theater program, the high school is seeking to restore its arts program, and is looking into potential collaboration with other local high schools in the Golden Triangle area, including already having worked with Eustis High School, as they continue to work towards rebuilding the high school arts community in the area.
Companions for Courage is an all volunteer organization based in Eustis that helps kids conquer their fears in the Courtroom...one paw at a time. The organization provides specially trained handlers and therapy animals who have been trained to remain focused exclusively on their assigned child to help comfort and calm them when they are in stressful environments such as providing testimony in a courtroom or other legal depositions. Companions are also available to support counseling sessions and in response to all sorts of other traumatic situations.
For ten years, Harvest Time Juvenile Ministries has been providing prison ministry focused on young offenders and at-risk youth to shine the light of the Gospel into their lives, to provide mentoring, counseling and work to involve families to help change the trajectory of the lives of youth.
Thrift Shop Hours
Thursday:
9:00 AM – 3:00 PM
Friday:
9:00 AM – 3:00 PM
Saturday:
9:00 AM – 12:00 PM
---
Thrift Shop Contact
Tel: 352-589-0641
Address: 211 S. Mary Street
---
Parking
Parking is available in the Church parking lot.