St. Thomas has a multi-building campus with different addresses.
Parking is always available in the grass parking lot, whatever building you are heading to,
and there are entrances on both Mary and Salem streets.
Please direct mail to our office.
OFFICE/MAIL: 317 South Mary Street, Eustis, Florida, 32726
CHURCH: 600 East Lemon Avenue
CHAPEL & WISDOM HALL: 610 East Lemon Avenue
PARISH HALL: 616 East Lemon Avenue
CHAPPELL HALL: 320 Salem Street
PARKING LOT: Grass lot on the north side of East Lemon Avenue
THRIFT SHOP: 211 South Mary Street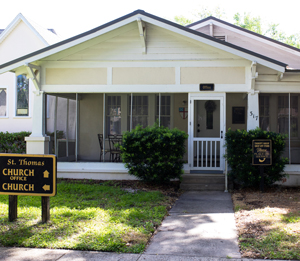 Monday: 10:00 am – 2:00 pm
Tuesday: 10:00 am – 2:00 pm
Wednesday: 10:00 am – 2:00 pm
Thursday: 10:00 am – 2:00 pm
Friday: Closed
Saturday: Closed
Sunday: Closed
Please note that the office
is also closed on public holidays.

For emergency pastoral support,
please call the office
and follow the voicemail directions.
Connect with St. Thomas on Social Media